As level 5 lock-down came to end, the President of South Africa announced that level 4 would mean that every South African needs to wear a mask. Sounds pretty simple, but life behind the mask comes with its fair share of challenges.
This past weekend, wearing our masks we headed out to do our weekly grocery run. While most law abiding citizens have their masks on, many aren't using them correctly. Used in combination with other measures, mask-wearing can assist to "flatten the curve" and reduce the speed at which Covid-19 spreads.
The correct way to wear you mask
Before putting on a mask, wash your hands with alcohol-based hand rub or soap and water.
Cover your mouth and nose with the mask and make sure there are no gaps between your face and the mask.
Avoid touching the mask while using it, but if you do, clean your hands with alcohol-based hand rub or soap and water.
Replace the mask with a new one as soon as it is damp and do not re-use single-use masks.
To remove the mask, remove it from behind (do not touch the front of mask) discard immediately in a closed bin, wash your hands with alcohol based hand rub or soap and water.
Wash fabric face masks with soap and water and iron when dry.
The Do's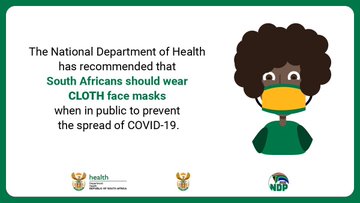 Wear a mask when leaving your home (effective 1 May 2020) as it is a requirement of the Level 4 lock-down rules and regulations.
Leave medical face masks for health professionals, especially given the global shortages of personal protective equipment (PPE).
Ensure your mask is comfortable as you will be wearing it for long periods.
Dispose of disposal masks correctly as incorrect disposal may cause further spread of the virus.
Make sure cloth masks are completely dry after washing them.
Have more than 1 mask available per person, so one is available when the other is being washed.
The Don'ts
Don't buy and hoard medical masks. Health care professionals are already facing a devastating shortage in supplies. We should not use protective masks that ill patients and health care workers may need.
Do not put a face mask on kids under 4 years old or anyone who has difficulty breathing or might be unable to remove the mask themselves.
Don't remove a mask by its mouth area. Grab it by the straps. Wash your hands after touching it.
Do not just wear a standard bandana or scarf. Follow the instructions below to create a mask that has multiple layers and more tightly covers your face.
Don't lower the face mask when speaking, coughing, or sneezing.
Do not touch the inner side of the face mask.
Make your own mask
Face mask template:
Supplies:
Cutout of mask template above (sizing should be adjusted based on individual face measurements)
Two washed 100% cotton T-shirts (or any tightly-woven, but breathable, fabric) in contrasting colors. Using two colors will help you remember which side of the mask is facing outwards (contaminated) and which is facing inwards (non-contaminated).
Scissors
Pen or marker
1.10 meters of flat elastic
Needle and thread (or sewing machine)
Simplified version of step-by-step instructions:
Place the template on a single layer of the T-shirt. Use a pen to trace and cut around the rectangle. Repeat with the second T-shirt.
Place the two rectangles on top of each other. Using your needle and thread, stitch them together at each end, as indicated on the template by Seam A.
You should now have a rectangle that is stitched at both ends, forming a loop. Turn the loop inside out and iron the seams flat.
Stitch the fabric together at both ends, where indicated by Seam B. This will create two "tubes" at both ends of the mask.
Cut the elastic in half, creating two lengths, each approximately 55 centimetres. Each length should be long enough to go around your head, from the bridge of your nose to the back of your head.
Tie a loose knot at one end of the elastic to help feed it through the tube. Repeat for the other tube.
To create the pleats, fold the fabric as indicated on the template (unevenly-dashed lines backwards, evenly-dashed lines forward).
Iron the pleats flat and stitch both sides, as indicated by Seam C.
Fit the mask so that it sits on the bridge of your nose and under your chin. Hold the elastic at the back of your head at a comfortable length so that it stays on. Mark the correct length and stitch the ends of the elastic to finish the mask.
Important things to note regarding masks for children
Wearing a mask could be extremely daunting and scary for a child. It is important that parents, guardians and caregivers do their bit to help educate their children regarding the use of masks. Life behind the mask is here to stay for a long time and the sooner we all become accustomed to it the better.
Below are a few important points to consider :-
Use simple words to explain why people are wearing masks.
Give kids time to look, watch, and get used to the mask.
Explain the do's and don'ts.
Buy or make the correct size mask for your child.
Masks should definitely NOT be used on infants and toddlers.
Children between the ages of 4 and 6 may wear mask under strict supervision.
Children older than 6 years of age may wear a mask on condition that they are trained on how to correctly use a mask.
Allow your child time to use a mask at home to get used to wearing a mask before they might need to wear one outside of your home.
Teach them how to put them on and take them off by themselves.
Have extra masks as children have a tendency of losing things.
Using a mask does not exempt you from the following :-
Wash your hands regularly. Use soap and water, and wash them for at least 20 seconds. Hand sanitizer is acceptable to use if you are unable to wash your hands.
Cover your face when coughing with a tissue or cough inside of your elbow.
Avoid touching your face, because you could transmit the virus from your hands into your mouth.
Stay at home, except for essential trips outside like trips to the grocery store, to see your doctor or if you are an essential service worker.
Practice social distancing by staying at least 1.5m away from other people.
Clean and disinfect frequently. Keep your house as clean as possible and disinfect utensils, surfaces, floors and furniture.
Take note
Wearing a mask is not a primary preventative measure and should not provide a false sense of protection that leads to a misuse of masks. Continue with COVID-19 preventative measures as mentioned above.
While life behind the mask may hide your gorgeous smile, but remember that your eyes are the window to your soul.
Stay home and stay safe.
Resources : World Health Organisation, National institute for communicable diseases (NICD, SA Corona Virus and Disaster Medicine and Public Health Preparedness