It's been almost a month that South African children have been home safe and sound in lock-down. Chances are, many children have fallen out of the initial routines and are fast becoming couch potatoes. Therefore time to rediscover the importance of dairy and fitness during the lock-down.
It is extremely important to consider bone development of children and never too early for children to learn about bone health. Childhood is the peak bone producing years. As a result, it is paramount that children understand why building strong bones is important. Developing good eating habits and exercise regimes, from an early age, will help children to have strong, healthy bones throughout their lives.
Dairy & Bone Development
Bone develops and grows from birth until early adulthood. The crucial stage for bone development is during the teen years (9 to 19 years), when 50% of bone density is acquired. Calcium is the mineral that 'feeds' our bones and makes them strong.
Dairy products are a great source of calcium. It is well absorbed by the body for maximum effect when building bones. Adequate amounts of calcium, vitamin D, (sunshine vitamin) phosphorus and physical exercise is the ideal combination to help maximise bone mass during the bone development
phases. As you can see below, we need dairy through all phases of our lives as it plays a vital role in our well-being.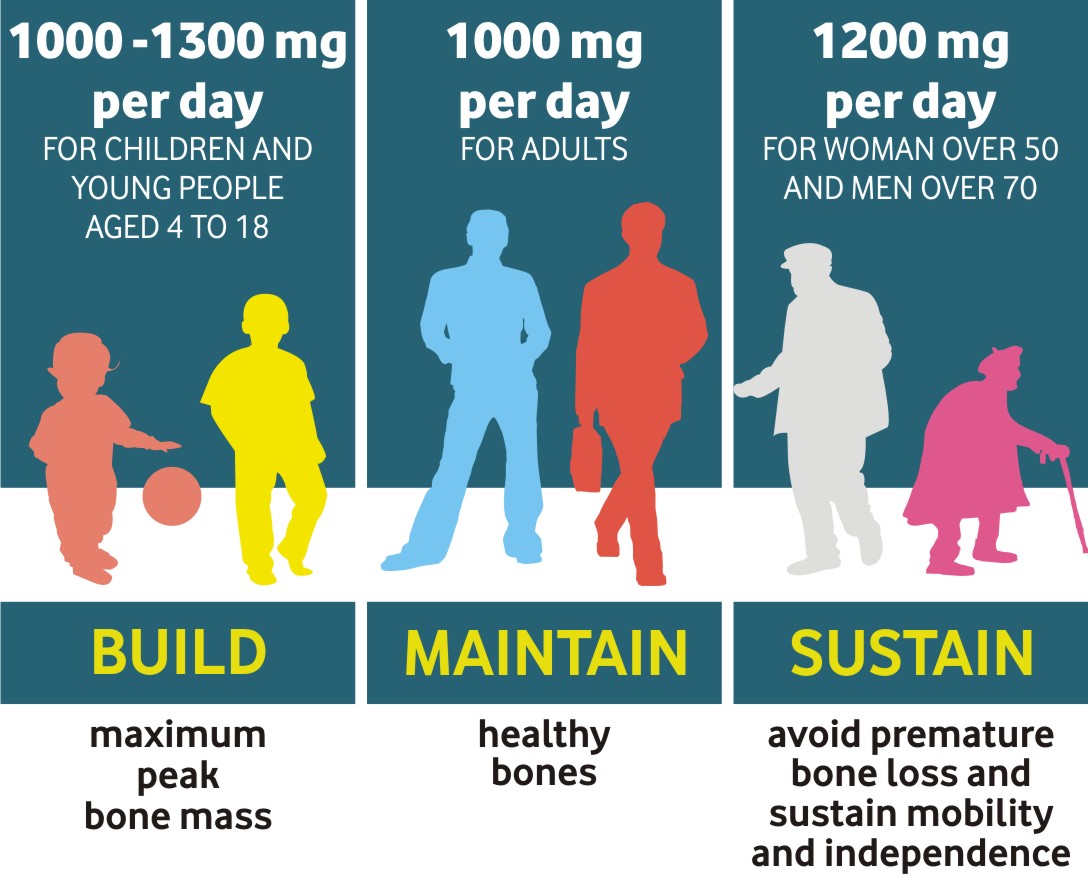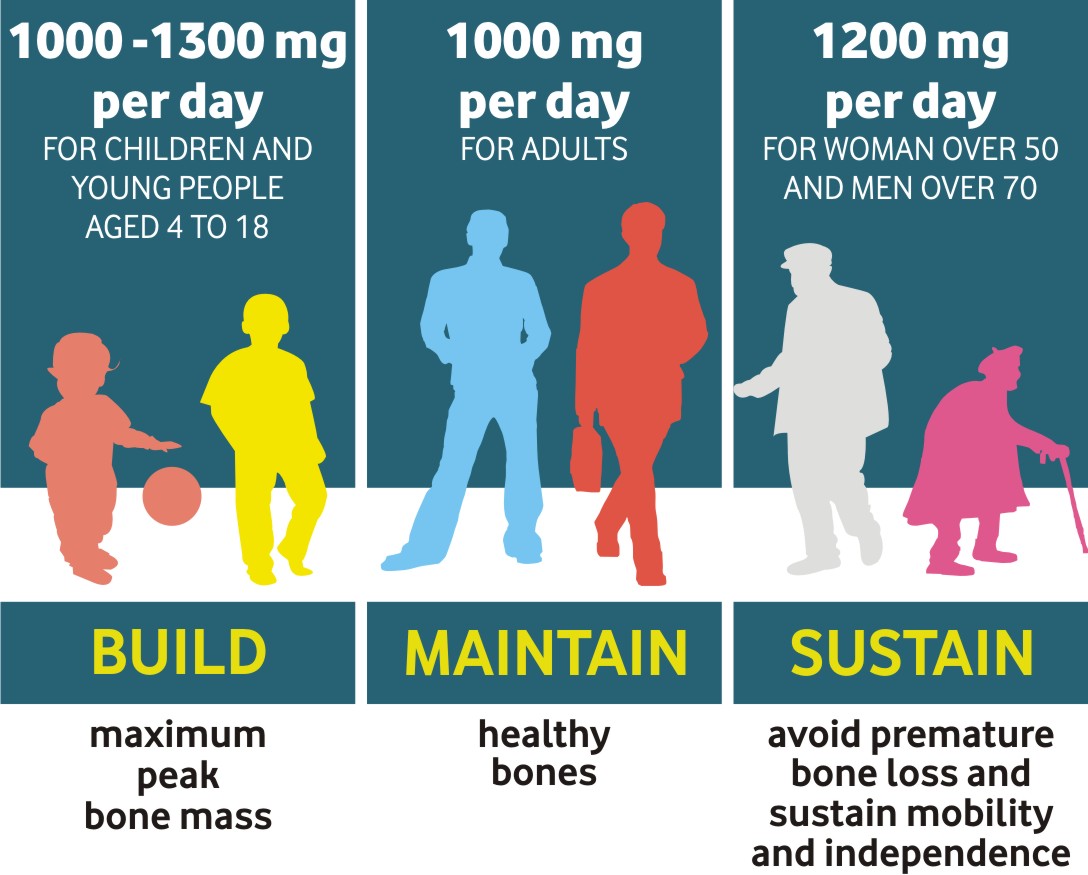 Rediscovering fitness as a family
Regular exercise has lots of health benefits for children and adults, but here's why you should be getting the kids off the couch:
improves fitness levels
an opportunity to socialise on hold until further notice #socialdistancing
increases concentration
can improve academic results
builds a stronger heart, bones and healthier muscles
encourages healthy growth and development
improves self-esteem
improves posture and balance
lowers anxiety and stress levels
encourages better sleep patterns
Combined effects of dairy and fitness
A combination of daily exercise, enough calcium, phosphorus and vitamin D has been proven to increase bone density. Bone density is a term used to describe the strength of your bones. A high bone density lowers your risk of fracture as the bone is "filled" with calcium.
Weight-bearing activities (such as walking, running, gym training and other sporting activities) for at least 30 minutes a day are ideal for developing bone density. While exercise and fitness is essential , however it also needs to be fun.
10 fun activities to help kids get their fit on during lock-down
Hopscotch – Use chalk or tape to make a game on your floor or outside your building.
Dance it out – The opportunities really are endless but will help alleviate those anxieties and stresses.
Balloon volleyball – Make a net by tying a piece of yarn from one chair to another. Then blow up a balloon and start practising those serving skills.
Book-worm workout – Story time doesn't have to be just a bedtime ritual. Pick a book that has a word that's often repeated. Every time the word comes up in the story, get your kid to do a jumping jack.
Crab races – When lock-down has you dreaming of fun times on the beach or at the park, play crab races.
Yoga Jenga – Write down a yoga move on each Jenga block. Set up the tower and play the game as usual, but every time a block is pulled out, every player has to do the specific yoga move. If the tower falls, do the plank for 30 seconds.
Jump rope – This is an excellent way to work on ones fitness. The perfect activity for older children.
High Jump – Use all those toilet rolls your both to see how high the kids can jump. Increase the height one toilet roll at a time.
Strength training – Muscle strengthening activities, such as lifting weights, can be beneficial for teens. But, weight lifting is not the only way to increase strength. In general, a safe and effective workout routine for teens involves strength training three times a week on nonconsecutive days
Check out The Kids Gym – The Kids Gym has launched a virtual gym to cater for children's fitness needs and is age specific.
3-A-DAY™ dairy
A healthy diet that includes at least two to three servings of dairy every day, especially during childhood and adolescence is recommended.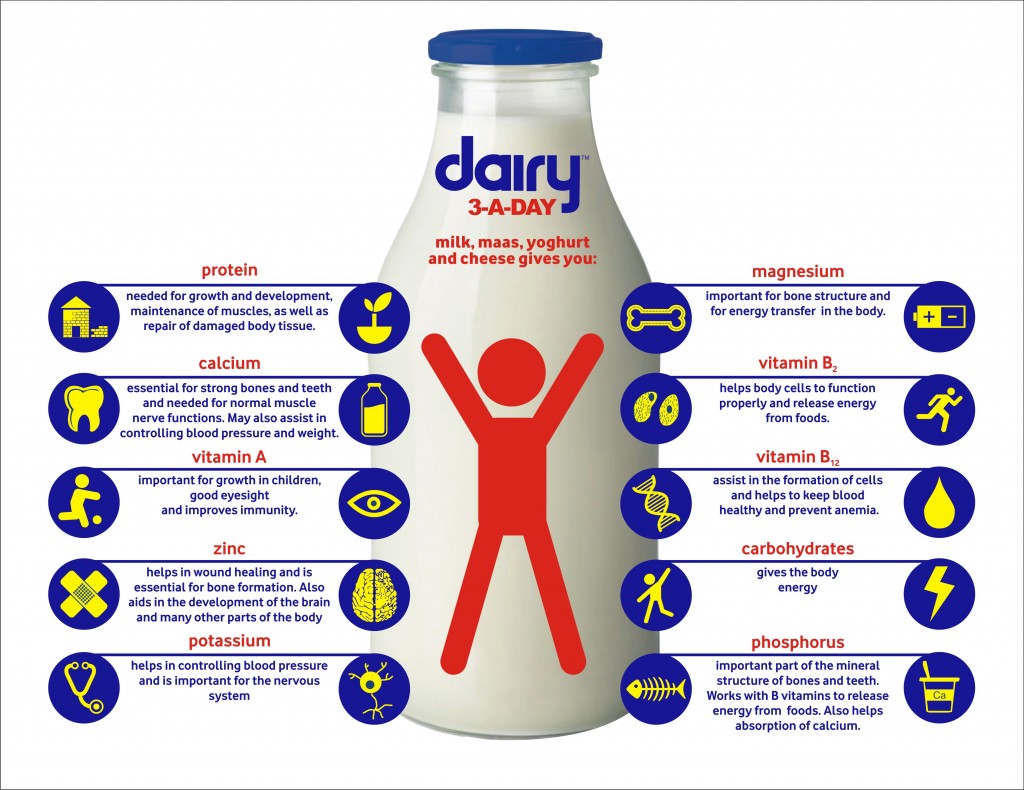 One serving of dairy is calculated to give approximately 300 mg of calcium. You need between 1000 and 1300 mg of calcium per day. Below are examples of dairy servings.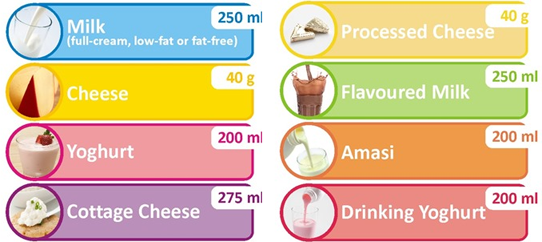 Many children may not enjoy dairy but here are a few exciting ways to just add dairy to their daily meals.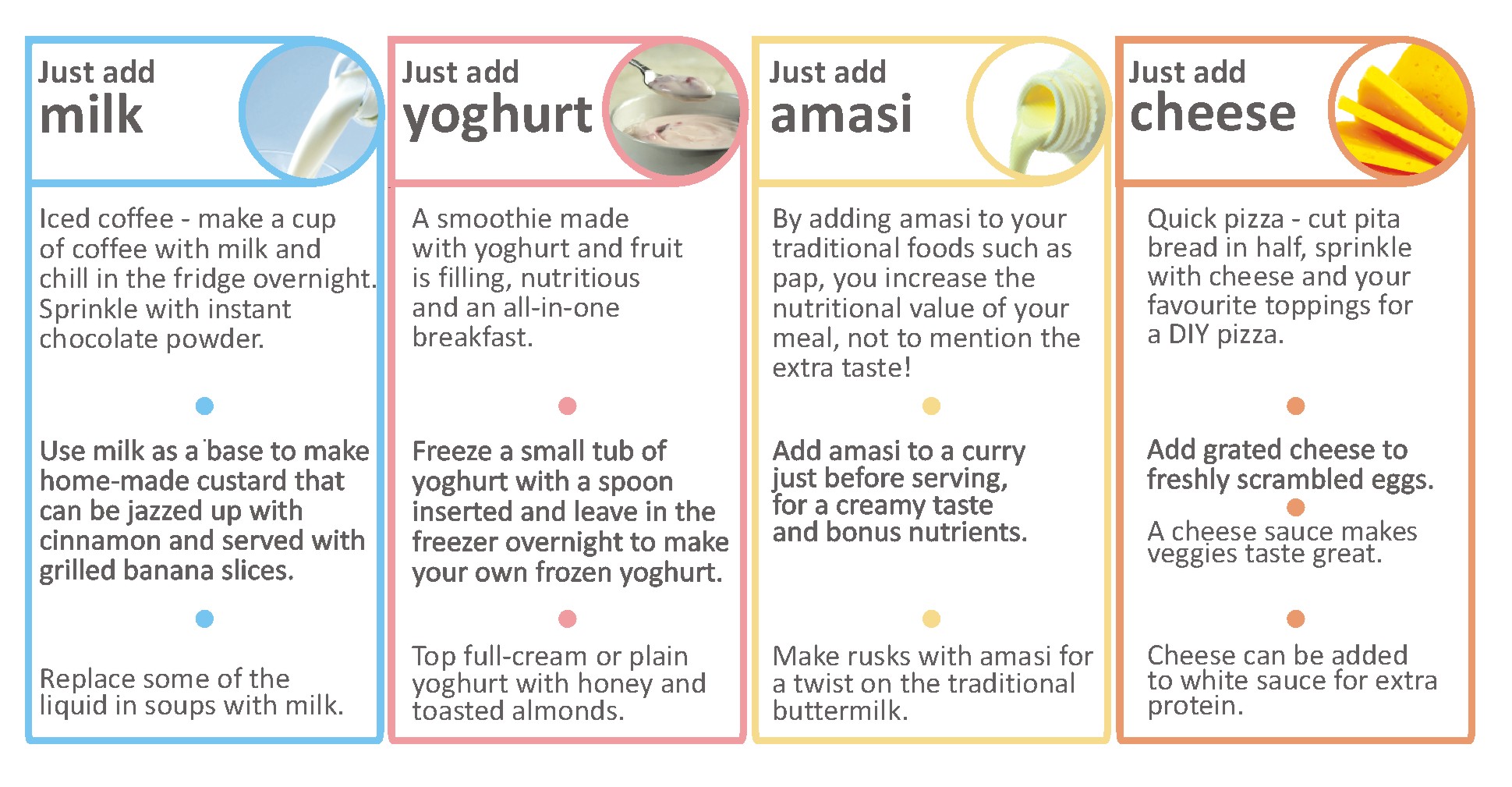 Wishing you a healthy, fit and safe lock-down. Stay home, stay safe and now go rediscover the importance of dairy and fitness during lock-down.
Disclaimer : Information obtained for this article was sourced from www.rediscoverdairy.co.za. Head on over to their Facebook page for more informative facts about dairy and its benefits: HERE.